HealthCheck October 31, 2012
Printer-friendly version
Having trouble viewing this email? View it in your browser.

Academy Activities
Two final practice notes were released in October: an updated practice note relating to long-term care rate stability under the NAIC's Long-Term Care Insurance Model Regulation and a new practice note on the preparation, review, and disclosure of rate filings under the Affordable Care Act (ACA).
A new Campaign 2012 voter guide, A Guide to Analyzing the Issues: Medicare Premium Support, was published by the Health Practice Council's Communications Committee. The guide is intended to help voters understand what premium support is and the potential implications of shifting Medicare to a premium support program.
Legislative and Regulatory Updates

Nineteen states have not yet submitted their essential health benefits packages to the Department of Health and Human Services (HHS), according to the National Academy of State Health Policy's State Refor(u)m website. The ACA requires both state and federal agencies to establish health insurance exchanges to offer health insurance through a marketplace by 2014. HHS officials earlier this year recommended that states send their essential health benefit benchmarks to HHS by Sept. 30.
In The News/Media Activities
A Forbes Oct. 18 commentary, "Benefits and Challenges of Medicaid Managed Care," mentioned the Academy and the Actuarial Standards Board in a description of the process that actuaries use to determine actuarial soundness in the private health plans.
Megan McArdle, a special correspondent for Newsweek and The Daily Beast, referenced the Academy's 2009 monograph, Emerging Data on Consumer-Driven Health Plans, in her Oct. 22 blog "Ask the Blogger: Can Transparent Health Care Prices Make Me Better Off?"
News links are to external websites. The Academy is not responsible for the content of these websites.

Upcoming Health Care Reform Events
Enabling Payer-Provider Collaboration: Smart, Point-of-Care Decision Support
Webinar: Nov. 27, 1:00–2:00 p.m. EST (fee charged)
Sponsor: America's Health Insurance Plans
For a complete listing of upcoming and recent health care reform events click here.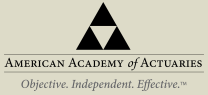 PLEASE DO NOT REPLY TO THIS EMAIL. THIS EMAIL ADDRESS IS NOT MONITORED.
If you would like more information or to contact the Academy, please visit us at www.actuary.org/content/about-us

Sign up to follow the Academy on Twitter.
Rather not receive Academy emails? Unsubscribe by emailing membership@actuary.org.
---
1850 M Street NW • Suite 300 • Washington, DC 20036 • 202.223.8196 • www.actuary.org
Copyright 2012 American Academy of Actuaries. All rights reserved.